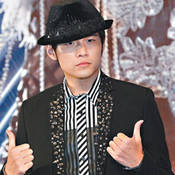 Jay Chou's Superman might not be able to fly, but he sure saved the day for Cape No. 7 director Wei Te-Sheng. The star apparently loaned 40 million (NTD) to the director for his new movie Seediq Bale. Filming of the epic began last November and is not expected to complete until July. The film's financial troubles has been widely reported as its budget has already ballooned to a whopping 600 million. Most recently, the production is said to be owing 2.6 million in car rentals.
Jay Chou reportedly made 550 million last year. His company JVR Music confirmed the rumor was indeed true, "Jay supports good movies, good directors. They needed money at the time, so Jay helped out, but we can't disclose the actual amount."
Seediq Bale producer Huang Chih-Ming responded, "Director Wei worked as the assistant director on the pre-production of Monga. We later collaborated on Secret. He thinks it's very cool of director Wei to make Seediq Bale. He loaned us some money after knowing about our financial difficulties. It was paid back to him in April. We had a written acknowledgment. He only charged us $1 for interest, so we are very grateful for his help."
Overview of Super "Charitable" Man
(All values in NTD)
1 million - President Chou donated to help a female dancer with getting a heart transplant.
13.2 million – Donated to the Sichuan Earthquake
12.8 million – Donated 2 million to the 88 flood initially and sponsored 300 children in the disaster area.
40 million – Loaned to Seediq Bale
In related news, Jay Chou recently caught the media's attention when he showed off some painted toe nails in a fashion spread. It wasn't the first he has worn nail polish as he did it back in the "Rice Aroma (稻香)" music video. Jay Chou is said to be quite confident about himself so he's not afraid to try on any style. It is in fact his forehead that worries him the most, "There is no sense of security. I still prefer wearing a cap like when I first debuted." But he added that it's okay to change it up once in awhile.
Source: CpopAccess